No problem can be solved from the same level of consciousness that created it.Albert Einstein

The "Employer Promise" at the heart of engagement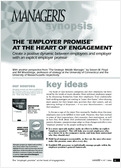 As the relationship between employers and employees has changed, defining an explicit employer promise is a good way to instill a powerful bond of trust.
subscribers, sign in to download the synopsis
---

The bond of trust between companies and their employees has been tested by the trends of recent decades. More and more employees appear to be distancing themselves from their employers. Even traditionally hard-working managers are starting to "count their hours," often showing more passion for their leisure-time activities than their careers, and are admitting feelings of skepticism – if not utter disenchantment – toward their employer.

Is this just a sign of the times? Not necessarily. Studies show that most employees want to be fulfilled in their work. However, they have evolved in terms of their expectations, their concerns, their motivations, as well as how they think about their professional commitment. To recreate a positive dynamic, companies must adapt to these changes and offer a new "employer promise" to the people working for them.

– In a more open job market, make an effort to define an explicit "employer promise": This will help you recruit employees who are a better fit to the company's needs, and help them understand why they should stay!

– Hold local managers accountable, as they are the ones who must make this promise come alive every day.

– Establish HR processes to individually manage people within the employer promise's general framework.
Synopsis n.166a
---
subscribers, sign in to download the synopsis