There is nothing permanent except change.Heraclitus

Rediscovering simplicity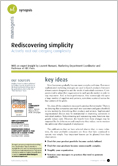 Companies tend to become more complex and thus more sluggish over time. Rediscovering simplicity can thus be a major performance improvement driver.
---

Most businesses gradually become more complex with time. Ever more sophisticated marketing strategies are used to launch products that seem almost custom-designed to suit the needs of individual customers. Companies tend to adapt their organization to each specific market in order to stay responsive. And, to boost performance, they increasingly rely upon a large number of suppliers and partners, sometimes scattered across the four corners of the globe.

Yet, does all this complexity necessarily produce better results? There is no denying that companies can reach new customers and gain a foothold in new markets by diversifying their products and services. Sophisticated organizational choices may be instrumental in improving operations in individual markets. Subcontracting and outsourcing some functions may greatly reduce costs. However, the benefit from these changes may be surpassed by the deficiencies and complexity they induce, not to mention the additional effort required of employees!

The publications that we have selected observe that, in many industries, the most profitable companies are those that have continued to operate very simply. Four important lessons can be gleaned from their observations:

– Don't let your product portfolio become unduly inflated.

– Don't let your products become unnecessarily complex.

– Simplify your organization.

– Sensitize your managers to practices that tend to generate complexity.
Synopsis n.172a
---