Become who you are. Make what only you can make.Friedrich Nietzsche

Prepare the leaders of tomorrow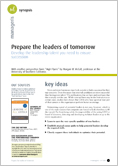 Many companies are obliged to look outside the company for a new CEO, given the lack of credible home-grown candidates. How to establish an effective system to detect and prepare the leaders of tomorrow?
---

More and more businesses must look outside to find a successor for their top executive. Does this mean that external candidates are more successful than homegrown talent? The publications that we have analyzed state that this is simply not the case. While external hires may be the best solution in certain cases, studies have shown that CEOs who have spent at least part of their careers in the organization perform better on average.

Maintaining a pool of potential leaders is not easy, however, which is one of the main reasons that companies are forced to look elsewhere to fill the top job! Far from being solely the responsibility of the acting CEO or board of directors, detecting and developing its future leaders is up to the entire organization:

– Learn to spot the very specific qualities of true leaders.

– Establish atypical career paths to help potential leaders develop the required skills.

– Closely support these individuals to optimize their potential.
Synopsis n.173b
---