A person who never made a mistake never tried anything new.Albert Einstein

The value of small ideas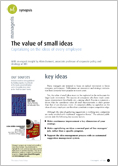 Capitalize on the ideas of every employee. How to implement an idea management system that serves as a real performance driver?
subscribers, sign in to download the synopsis
---

Many managers are tempted to focus on radical innovation to boost company performance. Publications on innovation and strategic reinvention have certainly been popular in recent years.

Yet, the value of small ideas must not be neglected in the enthusiasm for larger-scale innovation. The success of companies who have made continuous improvement their battle cry – among which Toyota is a pioneer –shows that the cumulative value of small improvements is often greater than that of one dramatic move. A company's ability to capitalize on the ideas of every employee can therefore constitute a major competitive edge.

Although the idea of gathering suggestions is nothing new, companies are rarely satisfied with traditional "suggestion boxes." The selected publications note the following key success factors:

– Make continuous improvement a key dimension of your strategy.

– Make capitalizing on ideas a normal part of line managers' job, rather than a specific program.

– Support the idea management process with an automated suggestion management system.
Synopsis n.132a
---
subscribers, sign in to download the synopsis