A person who never made a mistake never tried anything new.Albert Einstein

Optimizing production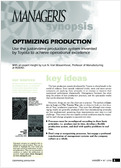 How to learn from the "lean" production system invented by Toyota to attain operational excellence?
subscribers, sign in to download the synopsis
---
EN SAVOIR +
¬ Successfully conduct your Lean Management approach
¬ Reengineering beyond the borders of the company


The lean production system developed by Toyota is a benchmark in the world of industry. Even outside industrial circles, more and more service companies are applying these principles in an attempt to improve their operational performance dramatically. Management literature has often sung the praises of lean production practices, and the spectacular results that can be obtained therefrom.

However, things are not that clear-cut in practice. The authors of "Journey to Lean" and "The Toyota Way" take an objective look at a few decades of "lean" production experience. They note that although very encouraging results are generally produced when lean manufacturing principles are first implemented, sustaining these improvements over time is a real challenge. They stress that two equally critical conditions must be respected for such change programs to succeed over time:

– Processes must be reconfigured according to three basic principles, i.e. produce just-in-time, develop a flexible production system, and deal with quality problems in real time.

– Don't stop at reorganizing processes, but engage a profound transformation of management systems and the company culture as a whole.
Synopsis n.129b
---
subscribers, sign in to download the synopsis