A wise man will make more opportunities than he finds.Francis Bacon

Optimize your supply chain strategy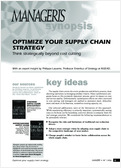 How to optimize the supply chain? There are viable alternatives to systematic cost cutting.
subscribers, sign in to download the synopsis
---
EN SAVOIR +
¬ Keys to successful outsourcing
¬ Reengineering beyond the borders of the company


The supply chain covers the entire production and delivery process, from planning operations to managing product returns. Many optimization programs focus on this extremely important process, given its impact on cost and service quality. Unfortunately, optimization efforts are often restricted to cost cutting, and managers are pushed to outsource more, delocalize more and more of the business, streamline existing capacity, etc.

Our selected publications warn of the limitations of this approach. While maximizing efficiency is certainly important, systematically cutting costs to the bone can be hazardous, and even distract a company from the real strategic priorities. We considered the following recommendations to be particularly relevant:

– Recognize the risks and limitations of traditional cost reduction drivers.

– Adopt a more strategic vision by adapting your supply chain to the competitive landscape of your market.

– Change people's mindset to foster better collaboration across the whole supply chain.
Synopsis n.140b
---
subscribers, sign in to download the synopsis