A person who never made a mistake never tried anything new.Albert Einstein

How to develop business in emerging countries?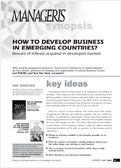 Companies often stumble when they tackle emerging markets with the reflexes applied on developed markets. Indeed, they must rethink their strategies completely to capitalize on the specific characteristics of emerging markets.
subscribers, sign in to download the synopsis
---

Developing countries clearly appear to be emerging as the markets of the future. These regions of the world account for the vast majority of the global population and are experiencing much higher rates of demographic and economic growth than those in the West. In fact, the American giant General Electric anticipates that 60 percent of its growth will come from emerging markets over the course of the next decade.

However, success in these markets will require more than simply transposing the offering and marketing approach that have worked in the West. It would also be a big mistake to believe that these markets are simply lagging behind the developed world and will eventually demand the exact same things over time. The truth is that each of these markets is quite distinct. Only companies willing to adapt the reflexes acquired in developed markets will be able to capitalize on this fantastic growth opportunity.

– Design an offering available to the broadest possible set of customers.

– Don't be content to introduce existing products and services, but rather adapt your offering to local markets.

– Aim to conquer several local markets, rather than a single national market.

– Don't hesitate to use advanced technologies.
Synopsis n.163b
---
subscribers, sign in to download the synopsis