Masterpieces are only lucky attempts.George Sand

Good corporate citizenship as a strategic opportunity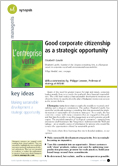 Companies often consider their ecological and social commitments as constraints. How to turn them into strategic opportunities?
subscribers, sign in to download the synopsis
---

Aware of the need for greater respect for man and nature, corporate leaders wonder how to reconcile this goal with their financial responsibilities. The cold, hard reality is that sustainable development initiatives are often the first to be sacrificed on the altar of budgetary restrictions as soon as the picture darkens.

"L'Entreprise verte" shows that it is perfectly possible to reconcile profitability and ecological commitment. The author, Elisabeth Laville, has spent the last decade running a consulting firm that pioneered the implementation of sustainable development strategies. As a result, she has come into contact with many companies that are engaged on this path, and that have been able to use this engagement as a real economic growth engine. The provided examples of "ecological companies" – ranging from innovative small businesses like Patagonia to multinationals like Shell and Lafarge – are a valuable source of information for anyone who would like to seize the opportunities offered by sustainable growth.

This book offers three learnings that merit detailed analysis, in our opinion:

– Make sustainable development a top priority: It is increasingly becoming an imperative.

– Turn this constraint into an opportunity: Attract customers with "clean" products, reduce your costs by optimizing your production processes, promote fair trade practices, build your brand image around these commitments.

– Be determined, but realistic, and be as transparent as possible.
Synopsis n.112b
---
subscribers, sign in to download the synopsis