It's what I do that teaches me what I'm looking for.Pierre Soulages

Cope with the unexpected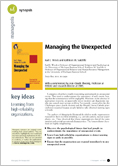 Coping with the unexpected is rarely businesses' strong point. How can you find inspiration in the practices of high-reliability organizations?
---

Companies often have trouble responding appropriately to unexpected events. They tend to underestimate the importance of such events, hoping that the consequences will be negligible. However, in the absence of appropriate response, an apparently minor incident can degenerate rapidly into a much more serious problem. For example, catastrophes like the Challenger space shuttle disaster and the Bhopal Union Carbide plant explosion occurred because people failed to take observed warning signs seriously.

The authors of "Managing the Unexpected" decided to study organizations reputed for their excellent reliability, e.g. aircraft carriers, nuclear power plants, etc. They observed that these organizations shared the same mindset and several operational characteristics. The lessons drawn there-from are highly enlightening:

– Discover the psychological biases that lead people to underestimate the importance of unexpected events.

– Learn from high-reliability organizations to detect warning signs as early as possible.

– Ensure that the organization can respond immediately to any unexpected event.
Synopsis n.103b
---