All that we are is the result of what we have thought.Buddha

Capitalize on word of mouth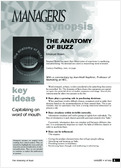 Word of mouth can be a very powerful marketing tool, provided that a company is able to influence it in a favorable direction.
---

Word of mouth, or buzz, is often considered to be something that cannot be controlled. Yet, "The Anatomy of Buzz" shows that companies can capitalize upon this powerful driver of market reputation and image. Several phenomena must be taken into account to do this:

Buzz plays a growing role in purchasing decisions.
When purchases involve difficult choices, consumers tend to make their decision based on the recommendations of those around them. This is particularly true for purchases that have a strong emotional dimension or present a risk.

Buzz circulates within invisible networks.
Information circulates well within groups of tightly-knit individuals. The flow of information in such clusters generally gravitates around a few "hubs."
Conversely, information does not circulate well between different clusters. It is consequently important to reach the hubs of different clusters in order to accelerate buzz.

Buzz can be influenced.
This requires:
– Giving the product characteristics that will get people talking.
– Identifying and focusing on hubs.
– Providing content to feed buzz.
– Reinforcing buzz through viral marketing or advertising.
Synopsis n.98b
---