Management is nothing more than motivating other people. Lee Iacocca

Choose the right organizational structure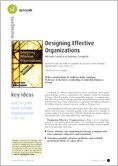 Defining the organization is always a dilemma. Rather than aiming for an ideal model, companies should rather opt for a structure that is best suited to their particular constraints and priorities.
subscribers, sign in to download the synopsis
---

Designing an effective organization is always a dilemma. Any organizational design involves compromises. For example, would the company be better off with a simple, easily manageable structure, or a matrix structure that better reflects strategic priorities? Should business units be small and autonomous or large and closely coordinated? Should the structure be broken down by country, function, market or business line?

Some management theorists have tried to define the ideal organization. Matrix structures were extremely popular in the eighties, for example. A certain number of universal "rules of thumb" dictated, for instance, that no boss should have more than eight direct subordinates.

"Designing Effective Organizations" offers a more pragmatic approach. The authors assert that there is no such thing as an ideal organization in absolute terms, but each company must make choices depending on its particular objectives:

– Assess whether your organizational design is aligned with your company's objectives and constraints.

– Anticipate possible execution problems, and establish mechanisms likely to reduce them.
Synopsis n.105a
---
subscribers, sign in to download the synopsis